"This site contains affiliate links to products. We may receive a commission for purchases made through these links."
Are you looking for a watch that has quality performance and style? Seiko SARB033 can be the watch you have been looking for. Seiko is a high-end brand of watch and optics that originated from Japan.
We'll be reviewing the Seiko SARB033 Japanese Automatic Stainless Steel watch. This will include the pros and cons of the watch and the features that gained its advantage to other watches available.
This can help you decide if this watch has the same features that you've been looking out for on affordable watches. Seiko watches have been one of the most top selling watches all around the world. They incorporate quality and assurance to each customer that buy their product.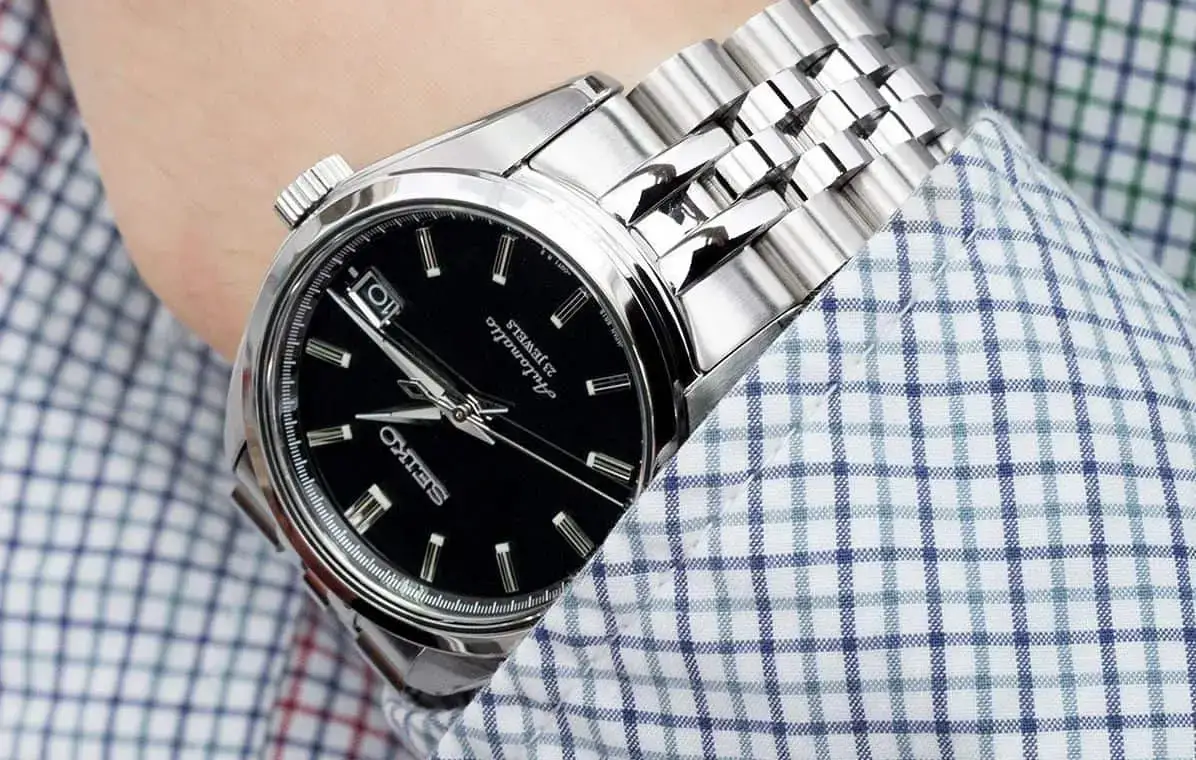 Seiko SARB033 Review – A Complete Guide
Seiko SARB033 Overview
Seiko SARB033
Automatic Movement with 50-hour power reserve
Sapphire Crystal
Japanese-automatic Movement
Case Diameter: 38. 4mm
Water resistant to 100m (330ft): in general, suitable for swimming and snorkeling, but not diving
Seiko, a Japanese company founded in Tokyo, Japan in 1881. Its company name in Japanese means "exquisite" or "success". They are commonly famous for their watches but besides watches, they also sell electronic devices, jewelry, optical products and more.
Now, Seiko is one of the best-known company that has really good quality wristwatches. If you plan to buy watches, Seiko should be added to your options.
Seiko SARB033 may be one of the best options when buying a watch that provides durability and quality of performance. This watch may retail for an amount ranging from $300-$500.
This watch is powered by Seiko 6R15 caliber self-winding movement which is a premium type of movement that powers their Seiko Prospex. This also has a 50-hour reserved battery so you don't have to worry if you take the watch off whenever you go diving since it can stay on for a long time.
This watch is also water resistant and it can go for up to 330 feet. One of the best features for this watch can be its scratch resistant dial window which is a sapphire crystal. Sapphire crystals are famous for its 9 out of 10 Mohs mineral hardness scale. This type of glass is commonly seen in high-end watches since this kind of quality is premium.
In its dial window, you can also see that it doesn't use numbers for the time and the date found on 3:00.
Key Features
Shows day/date

Stainless steel case and bracelet

Scratch-resistant

Water resistant
Things We Liked
Made by an established watch company

Good size for small to average wrists

High-end watch

Good for activities such as walking and swimming
Things We Didn't Like
Some resellers overprice

Might have some functioning issues
Target Customer
If you are looking for watches that are reliable and durable with a good price, then the Seiko SARB033 can give that to you. This watch has been loved by a lot of people after buying them. They are perfect for men who have a smaller wrist. Though some who have bigger hands also prefer smaller watches.
This watch starts at a price of $400 and goes on up to almost $500 which is a good price for an automatic watch with an established company. This watch provides features that you can already get for a watch worth $1000.
This model of watch is good for individuals who want to gift their friend or for those who want to try out an automatic watch. Having good aesthetics and functionality, this watch is good for starters in automatic watches.
When choosing a first-time automatic watch, you should go for an established brand. This is why this Seiko SARB033 is a better option than those generic brands in the market today.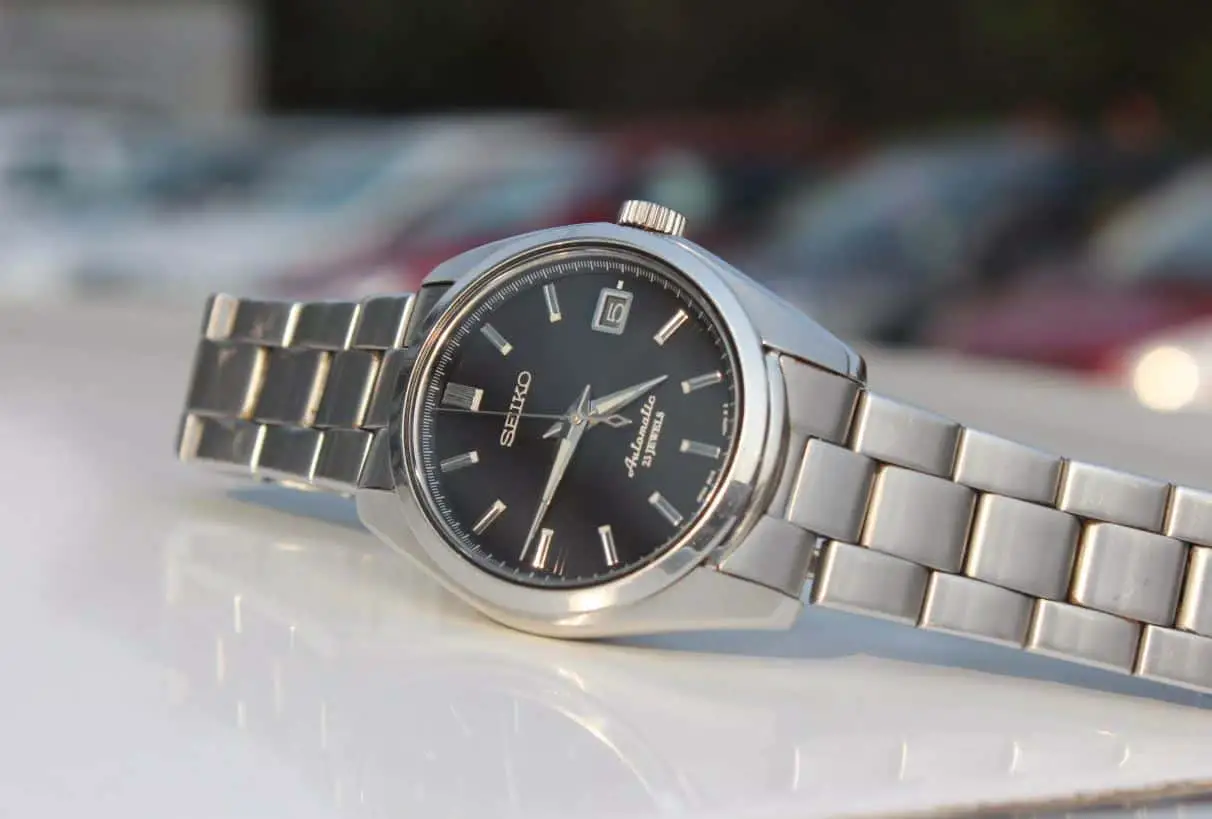 Key Features/Benefits
Stainless Steel Case
One of the most important thing when looking for a new watch is checking its case. The case connects and holds everything there is to a watch. If titanium is expensive for you, you should go for stainless steel since this provides a lot of benefits. It's very durable and stain-resistant which is all you need to have for a mid-price watch.
Sapphire Crystal
In order to protect the watches mechanism, you should have a scratch resistant glass as a material. Having hardlex crystal or mineral crystal is fine but a material such as sapphire crystal is even better. This prolongs the life span of the watch and you don't have to be bothered if ever your watch hits something hard accidentally, which can happen on a day to day basis.
Canvas Strap
This watch has a stainless steel strap that is durable and stain resistant. Having a sturdy strap is one factor that can get you a better experience rather than an ordinary strap. If you ever have a mediocre strap, you should really change it since it can cause depreciation to the watch.
Watch Winder
This Seiko watch has a Seiko 6R15 caliber self-winding movement which is a premium type of winder.
Price Point
This watch's price is not surprising as it holds features that can be found in a high-end watch brand. For its price, it's already on point since the materials used are mostly premium and the company that manufactured this watch is also an established company. The features that should be considered for getting the price is reasonable since it has a 50-hour power reserve, water resistance, stainless steel, and so on.
Water Resistance
This watch is not for diving. This is only good for swimming for up to 330 feet. If you plan to go for a dive, then you should not forget to take this watch off.
50-hr. Power Reserve
This watch has a 50- hour power reserve which is more than enough if you leave your watch for just a few hours or a day. This is considered a high-end feature since some watches has a maximum of 40-hour power reserve.
Day/Date
This feature is displayed at the 3:00 position. Owning a watch doesn't mean you can't lose track of the date. Having this feature can be helpful especially if you have a busy schedule that you lose track of time.
Seiko SARB033
Automatic Movement with 50-hour power reserve
Sapphire Crystal
Japanese-automatic Movement
Case Diameter: 38. 4mm
Water resistant to 100m (330ft): in general, suitable for swimming and snorkeling, but not diving
What says customer about the Seiko SARB033?
The product overall is loved by customers. It shows the basic necessities that we need for a watch. This watch can add to your accessories when you go to formal events. A lot of reviews also indicated how superb the watch is since it has premium quality for an affordable watch. It also looks good on the wrist and it isn't hard to adjust the date and time. Customers find this as the perfect watch to buy.
Though, there was a customer who stated in their review that they received a second-hand watch and said that everyone should be careful on which store to buy as they can be scammed.
The production for the watch has also been stopped that is why some customers bought the product immediately at its low price rather than buying it second-hand or on a more expensive price. Some are disappointed with the finishing on the hand and some loved how it looked when directed to sunlight.
A lot of people also complained about wanting a watch that would fit their wrist. A lot of men watches are 40mm and other men find this width rather big for their hands.
FAQs & Tips
How water-resistant is the watch?
The watch is more than splash proof. You can actually dip or swim on it and nothing bad will really happen. The only thing to avoid is going scuba diving since this can go to more than 330 feet and it can destroy the watch's function. If you want to go scuba diving, you better take this off.
What's the watch's strap size?
The watch's strap size is 20mm and is fit for small to an average sized wrist. The stainless steel strap is a good strap for this size of a watch since it is the best option since it's more durable and water resistant.
How durable is the Sapphire crystal?
Sapphire crystal is the most durable material for the dial window. This type of material is scratch resistant so you don't have to worry about changing your glass.
How loud is this watch?
This watch isn't loud and you can only hear the ticking sound if you go close to the watch and the environment is silent which only happens often. Some watches give an annoying ticking sound and others are very sensitive to this.
How long can the watch keep time when not worn?
Since this watch is automatic, you would really want to ask how long will it take before it stops ticking. For this timepiece, this will function for 50 hours without arm-movement.
Does this watch require a battery?
This doesn't need any battery since this is an automatic watch. It can power for up to 50 hours without interaction.
Final Verdict
We're done reviewing the Seiko SARB033. What are my final thoughts? In my opinion, this watch is really worth it for its price. The watch doesn't have an issue to start with and a lot of the customers loved it and find it their perfect watch.  
Looking at the watch, I find it very stylish and I would also want to purchase this watch since it can be used to formal events and on your everyday life. The brushed front and the polished side adds up to the reason why this watch is unique. The back also looked amazing and you can see though how the watch is moving.
One thing that I like is how simple it is. But others might think that the watch is too simple since the dial is only in a line. But for me, it matches the watch and you can easily pair this up with anything simple too or maybe even flashy clothes that can help the watch stand out.
This brand provided a good winding movement and the overall performance of the watch is impressive for an affordable watch or a watch under $500. Sadly, there is news that the company is discontinuing the production of this watch and it may be because it is an ideal watch for everyone and other models is compared and you can identify how it is better than the other.
The Seiko SARB033 can give you high-quality and delivery with a right price. Unlike other timepieces where you have to get for a price higher than $700. This is a rare find and if you see this in the market you should buy this or maybe include to the watches that you'll consider.
Though as we can see even though this watch is praised by many, we still should expect that this watch may have minor issues and can be easily fixed by the nearest Seiko customer service area which can be found in every city or malls in your location.
You may like to read this:
Last update on 2023-08-27 / Affiliate links / Images from Amazon Product Advertising API