"This site contains affiliate links to products. We may receive a commission for purchases made through these links."
Tracking your swimming progress is one of the ways to know if you are genuinely improving with swimming and one of the viable ways is through the use of the best stopwatch for swimming. While I was learning to swim, I was only concerned about finding it easy to swim.
The story changed when I had a friend who keeps challenging me on getting to the end of the pool every time we go out to the pool. This made me challenge myself to improve on my swimming skills, my pace and style of swimming. 
Well, I didn't have a trainer or coach, but I was able to time myself to know the seconds it took me to get to the other side of the pool. That actually helped me in improving and increasing my speed. Without a doubt, the best way to improve your style, skills and speed with swimming is through the use of a stopwatch to monitor your progress.
The later part of this post will be on guide with how you can use a stopwatch and some important things you need to know about the watches before buying. But before then, let's check out the list of some of the top stopwatches to monitor or track your swimming progress. 
Stopwatches for swimming – Expert picked products
FINIS Waterproof Stopwatch for Swim Training
The FINIS waterproof stopwatch is perfect for swim training and any other activity that places you near water. With a sharp yellow-and-black design, this is an attractive stopwatch as well as a functional one, and it is so lightweight that you can take it with you anywhere you go. It allows for split timing and a total of 300 splits, and it even lets you review both cumulative splits and lap splits. The LCD display makes all of the numbers on the screen easy to see, and you can even review the current memory without the need to stop the watch first.
Key features:
Some of the most important features of the FINIS waterproof stopwatch include the following:
Is lightweight and easy to maneuver

Automatically calculates the stroke/stride rate

Offers long battery use of roughly five years
This is a very accurate, easy-to-use stopwatch that you can use for a variety of activities. If you're a swimming coach, it makes the perfect watch for timing all of your students whether you're practicing or in competition. It also has a 4.5-star rating on sites such as Amazon and others, making this one stopwatch that you won't regret purchasing.
FINIS Waterproof Stopwatch for Swim Training
FINIS 3X100 Memory Stopwatch
STOPWATCH TIMING OPTIONS: 100 dual-split memory with the ability to review both cumulative and lap splits; Review memory while continuing to run the watch and take splits
EASY TO READ: Clearly displays dime on a large digital face
MEASURES STROKE RATE: Automatically calculates stroke/stride rate; Programmed for every 3rd stroke/stride
1, 2 FAST FINISH: Displays the 1st and 2nd place times in the same view
ACCURATE TIME INTERVALS: Measures up to 10 hours by 1/100th second
Made in a sharp-looking black design, this waterproof stopwatch is perfect for swim teams, coaches, or even outdoor pool parties with competitive friends or neighbors. It sells for just under $50 and is made to be sturdy and long-lasting. It also comes with a dual-split memory feature that lets you review both lap splits and cumulative splits. You can measure the stroke rate and even review memory stats without stopping the watch and while continuing to take splits. This is also a very easy-to-use stopwatch that even non-techies can use with ease. The clearly marked LCD screen makes reading all of the stats super easy every time.
Key Features:
There are numerous features of this stopwatch that you'll soon learn you can't live without. They include:
Is very reasonably priced

Displays the first- and second-place times in the same view

Measures up to 10 hours by 0.01 second

Automatically calculates your stride or stroke rate

Has a very large easy-to-read digital face
Even if you've never operated a stopwatch before, this one will have you working it like a pro in no time. It is perfect for swimmers and coaches alike, and it received a 4.5-star rating on Amazon, with nearly 90% of users rating it either 4 or 5 stars.
ACCUSPLIT 500 Memory Stopwatch, Black
ACCUSPLIT 500 Memory Stopwatch, Black
Accusplit exclusive ergonomic "x" case
3 line display with running cumulative time
3 mode, countdown timer
500 recallable memory (running: lifo and stopped: fifo)
Special million cycle switches operate cleanly, precisely and reliably each & every time you Use the stopwatch
The ACCUSPLIT 500 black stopwatch both looks great and works great, and its large display numbers make it super easy to figure out just what is happening at all times. It is ergonomically designed for better comfort and costs just under $49, making it reasonably priced as well as dependable and reliable. There are three different modes to choose from to make using it even more efficient, and the three-line display even includes the running cumulative time. Since it is lightweight and easy to maneuver, you can also take the watch with you everywhere you go without it being too heavy or cumbersome.
Key features:
This amazing stopwatch has numerous features that make using it a piece of cake, including:
500 recallable memory stats (running: LIFO; stopped: FIFO)

Special-million cycle switches that operate precisely and cleanly

Ergonomic design to prevent hand and wrist pain

Three modes to make using it convenient

Convenient size at 3.25" x 2.5" x 0.8"
At just over three ounces, this stopwatch is easy to maneuver and easy to carry with you from meet to meet, and it gives you very detailed information regarding each swimmer and each activity practiced in the pool. When you need a stopwatch that is waterproof and built to last, this is definitely one that you should consider.
Ultrak 496 500-Lap Memory Timer
Sale
Ultrak 496 500 Lap Memory Timer
500 dual split recallable memory; bottom row displays running event or running lap time
Continuous display of event time; memory recall during operation
Take splits during recall mode; large 3 row display; measures to 10 hours
Stroke/frequency; time, calendar and alarm
Water resistant; lithium battery; 5 year
With easy-to-use buttons and a very attractive design, this memory timer offers continuous display of your event time, as well as the ability to recall memory stats while it is still in operation. The large three-row display makes it super easy to see what is going on at all times, and it even measures up to ten hours or longer. In addition to getting perks such as stroke/frequency, the timer also provides you with the time, an alarm, and a convenient calendar. This is a multipurpose watch that can be used by coaches, swimmers, and anyone else who needs a good functional stopwatch.
Key features:
This memory timer is sleek and modern-looking, and some of its best features include:
Water resistance

Lithium-ion battery that lasts five years

Dual split recallable memory

Large three-row LCD display for easy-to-read numbers
The last (bottom) row on the display screen shows the running event or the running lap time, but it isn't just the technical stats that make this timer such a good purchase. It is also the fact that the timer is easy to use, fits comfortably in the palm of your hand, and has high-quality components that help it last for many years to come. And with its 4.7-star rating on Amazon, you can buy it with confidence knowing that it will do what it says it will do.
SC SPORTCOUNT LapCounter and Timer – Waterproof Lap Counter Timer for Swimming
SC SPORTCOUNT LapCounter and Timer - Waterproof Lap Counter Timer for Swimming, Biking, Running Triathletes - Accurately Tracks Laps and Times to Help You...
If you are keeping track of your laps in your head, you need this lap counter to keep an accurate count so you can focus on your workout. Counts up to 9,999 laps.
KEY PERFORMANCE DATA - It also times your laps and provides real time speed data and workout summary statistics: total cumulative time, fastest, slowest, and average lap times.
NOT JUST FOR SWIMMING - This waterproof lap counter and timer is also a great for runners, cyclists, coaches, umpires, and many sport and non-sport activities.
ERGONOMIC DESIGN - One hand operation does not interfere with your workout technique which makes this digital counter biomechanically better than a sports watch or tally counter.
You can think of this counter/timer as a portable timer because you can place it on one of your fingers before you start swimming and keep it with you to help count and time your laps. It can count up to 9999 laps and provides real-time speed data as well as stats regarding your workout summary, therefore allowing you to determine what you need to do to improve your numbers. Easy to use and super-comfortable, its ergonomic design puts it a step above standard timers and won't interfere with your workout, regardless of how long it is.
Key features:
The SC SPORTCOUNT counter and timer is second to none in its quality and in its ability to make your life a lot more convenient. Other features to consider include:
Great for all types of athletes, including swimmers, runners, cyclists, coaches, etc.
Comfortable and simple to use

Easy to operate with one hand

Able to give you all the key performance data you need
If you train regularly and you don't have a coach, do not worry because with this timer on one of your fingers, operating it and swimming or running at the same time is never difficult. This is a multipurpose timer that you'll not regret buying.
Professional Timer Stopwatch with Countdown Timer
Professional Timer Stopwatch, Digital Sports Stopwatch with Countdown Timer, 100 Lap Memory, 0.01 Second Timing,Water Resistant,Multi Functional Stopwatch...
Professional Stopwatch: Multi-functional milliseconds stopwatch,three row display,two sets of record memory,100 records per group,1/100 seconds in units,Can look up records up and down, read the...
Timer:Countdown max to 9 hours, 59 minutes, 59 seconds.
Time and Alarm:Calendar display,can choose 12 /24 hour system,2 alarm clock(can turn off).
Paddling frequency meter measurement:For measuring rowing frequency.
Metronome function:Frequency from 10 to 320 times per minute.
You might think the fact it is called a professional stopwatch means it has to come expensive. Fortunately, the stopwatch comes cheap and affordable, but it has all the qualities of a professional stopwatch for swimming.
Tracking your swimming routine and progress is easier with the use of the stopwatch. It is simple to operate, handy, lightweight and durable. I love it for the simplicity of the design and user-friendly features which makes it adorable.
A quick one on the features is the six modes which include the stopwatch, timer, countdown timer, football stopwatch, alarm and metronome. You can see the reason it is referred to as a professional stopwatch.
For the metronome, it has a frequency function of 10 to 320 times per minute, the time and alarm display 12/24-hour system, two-alarm clock which you can turn off. The stopwatch has tow sets record of memory, and it can be used for a different sport such as running, football and swimming. You just have to set to your desired sport.
Key features:
Metronome function

Ideal for football, swimming and running

Multi-function milliseconds function

Timer countdown

Time and calendar
Should you get a waterproof stopwatch for swimming?
Let's get this straight. There is no reason for you to ever purchase a stopwatch for swimming without a water resistance feature. There are situations where you have a stopwatch for other sport, and you choose to use to monitor your swimming progress. That is allowed but quite risky.
Most time, the watch has to be used very close to the pool and you, unfortunately, it might get into the pool even when you don't plan for it. If it doesn't have a water resistance feature and you can't reach out to it early, it is likely to get damaged.
It is the primary reason you should always consider a stopwatch that has water resistance feature if you will be using it for swimming. There are cases where unplanned occurrences will occur, and the watch will fall into the pool. Then you do not have to panic.
So, getting a water resistance stopwatch should never be an option but a necessity to anyone that want to monitor their swimming progress. Take note, and most water resistance stopwatch can't be submerged in water for so long. So, it should be handled by a coach or trainer.
Top functions of a swimming stopwatch
You should not be in the dark with the functions of a swimming stopwatch because the functions are factors you have to consider when buying the stopwatch. Let's check out some important ones you should know.
There is always a button on the stopwatch for this particular function. On most stopwatches, it is written clearly for you to see. Once you press the button, the stopwatch will then start to record or take the measurement of the individual lap times when in the water swimming.
It is very important when it comes to reviewing and monitoring one's pace with swimming. It helps to know the time you get started, the time you finished, and that triggers you to push harder on the next attempt.
Another button you will find on the stopwatch is the recall button. This will display the lap and the cumulative splits. Cumulative split is the total elapsed time used in swimming from the starting point. So the recall function is an important part of the watch. It helps the trainer or coach to give you the right record of your swimming routine.
Another amazing function is the stroke function. The function helps the trainer or coach handling the stopwatch to monitor or measure the total amount or number of strokes the swimmer performs per minutes. It is very important to measure the swimmer speed.
This is very common to most stopwatches. The button clearly wrote on the watch as start and stop used to initiate the operation of the watch and as well shut it down when not in use or after every training session.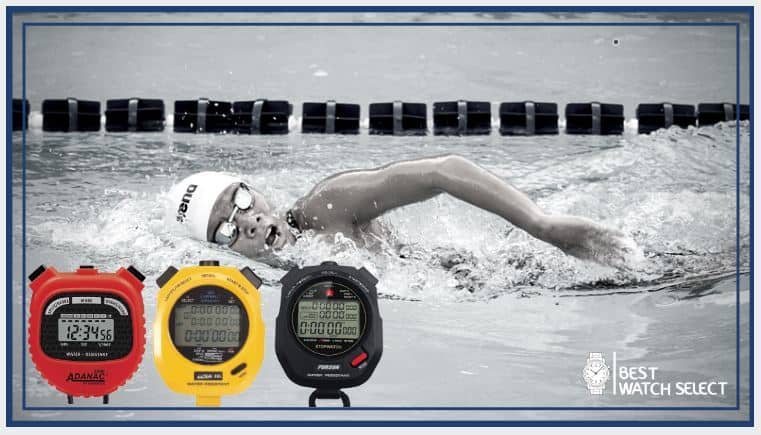 Important things to consider when buying stopwatch for swimming
Either you are a beginner, or you are an expert in swimming, and you need to monitor your progress, you need a quality stopwatch. If you've now decided to get a stopwatch for your swimming training, you need to consider some important things.
This should never be an option for you, as I said earlier. You should opt for a stopwatch with water resistance feature. Since you will be doing much of the work beside a pool, you should consider this factor. 
Take note that not all stopwatches in the market have this particular feature. So, you must carefully check and ensure your choice has the feature. Choosing a waterproof stopwatch will enhance longevity even if it falls into the water.
This factor has nothing to do with the functionality of the watch. But it is one of the factors to consider. You should never get a stopwatch with a colour that turns you off. Study shows that colour thus affects one's mood. If that is true, you should give attention to the colour of the watch.
The second aspect is the design of the watch. Some are designed meticulously with an amazing structure that makes them alluring. So, you decide what exactly you want. But while making your choice, never overlook quality and focus on colour and design. You must strike a balance. 
Another factor that you should consider is the display of the watch. Most comes with a digital display which is quite easier for anyone to read and understand. So much attention should not be given to this unlike those above.
Most times, you will not be the one using the watch so you must consider the usability of the watch for others. You must consider the user-friendliness of the watch, check to ensure it has all the features and functions you needed from a stopwatch before purchase.
Frequently asked questions
What are the benefits of using a stopwatch?
You can never tell the benefits of using a stopwatch until you try to measure your progress with an analog display watch. It doesn't work. Stopwatches have features like a countdown to help you measure the time it takes you to get to your finish line from your starting point. 
Stopwatches are the best to use when it comes to measuring one's progress with swimming. It keeps accurate details of your lap time and cumulative split in the water. 
Should I use my stopwatch for swimming?
I would not advise that you use your stopwatch for swimming. Although most of them come with waterproof features that don't mean they can be used for swimming. One the off chance, it falls into the pool, you should try all you can to reach out to it in time.
They are mostly equipped with the capacity to withstand some certain degree of immersion and splashes and not to be submerged in water. 
Can I use for other sports?
Fortunately, the majority of the stopwatches I have on the list comes with the option to be used for other sports. Some can be used for running, cycling, and football. So you need to consider your need to help you choose the right watch to meet your need.
Conclusion
This post on the best stopwatch for swimming is for those who are seriously in need of a perfect means to track and monitor their swimming progress. We have given all to be best of our capacity to help you with the lists of the best products and guideline to help you make the right call.
References:
Last update on 2023-11-08 / Affiliate links / Images from Amazon Product Advertising API