"This site contains affiliate links to products. We may receive a commission for purchases made through these links."
Kayaking is fun and exciting. It helps to improve one's aerobic fitness, strength, and flexibility. It involves the use of small kayak to move across the water while paddling with a double-bladed paddle. However, the focus of this post is on the best watch for kayaking you should consider.
The use of watches for kayaking has been for years and it is not a new era act. Therefore, it is important that you do not use your normal watch for kayaking except it is resistant to water. Well, that will be discussed better in this post.
So, without any delay, we wish to share with you some of the best and top-quality watches you can consider for kayaking.
8 Top-quality watches for kayaking
Garmin Fenix 6 Pro Solar, Solar-Powered Multisport GPS Watch
Sale
With a display screen size of 1.3 inches and a rugged but sophisticated look that you can go anywhere with and still get noticed, the watch uses the sun's energy to stay powered and tracks tons of statistics for exercising and keeping on top of your heart rate and other health stats. On the screen itself, you get the time, day and date, altitude, barometric pressure, and even how much life you have left until your battery dies, to name a few. This watch gives you tons of information in the palm of your hand, and it even comes preloaded with TOPO maps, ski maps, and a compass for hiking and other sports.
Positives
Has sleek, modern design to catch people's attention

Helps you track and monitor stats for all sorts of events

Has several navigation systems, including GPS, Galileo, and GLONASS

Has large 1.3-inch display that is larger than other watches
Negatives
Watch is very pricey at around $800

There are some claims that some features (heart rate, etc.) don't work right
You can even use this watch to pay for things through Garmin Pay, making all of your purchases from now on a whole lot easier and faster.
Garmin 010-01689-03 Forerunner 35, Easy-to-Use GPS Running Watch, White
Garmin 010-01689-03 Forerunner 35, Easy-to-Use GPS Running Watch, White
Built in GPS built in to acquire satellites quickly to track how far, how fast and where you run, even under tree cover. No phone required
24/7 heart rate monitoring warm gives you heart rate all day and night no additional Strap required. Display resolution 128 x 128 pixels. Lens material : Chemically strengthened glass
Vibration alerts helpful vibration alerts notify you of running prompts, activity tracking milestones, smart notifications and virtual pacing progress
Updated display perfect for indoor/outdoor viewing, smart connectivity auto uploads, smart notifications, live track, music controls and automatic software updates
Display size 0.93 x 0.93 inch (23.5 x 23.4 millimeter) sunlight visible, transflective memory in pixel (MIP), water rating 5 ATM, Smartwatch Mode upto 9 days, GPS mode upto 13 hours
Available in three other colors besides white, this Garmin running watch helps you keep track of your stats so you can set fitness goals and keep them. The numerous features on the watch will surprise you, and they include heart rate and running distance, among many others. The watch will go up to 13 hours when in GPS mode and up to nine days in regular smartwatch mode before needing a recharge. The display screen is roughly 1" x 1" in size. This is a multipurpose watch that has a sleek, modern design and will provide you with many years of efficient use.
Positives
Chemically strengthened glass crystal

Vibration alerts for activity tracking, running prompts, and virtual pacing progress

Efficient GPS capability that can be used without a smartphone

Reasonable price 
Negatives
Some complaints about the quality of the screen

Some claims that the accuracy of information is somewhat off
You can also get this watch with a heart rate monitor if you like. The watch is so sophisticated that it tells you how far, how fast, and even where you jogged, so it gives you a lot of useful information that can help you organize your fitness goals.
SUUNTO Ambit3 Peak HR Running GPS Unit
Suunto Ambit3 Peak HR Monitor Running GPS Unit, Black
SUUNTO Ambit3 peak delivers stable and accurate altitude and weather information with full navigation in a robust casting
Includes built in altimeter, barometer, compass and GPS with 100 meter water resistance
One of the most competitive battery hours in the market, 200 hours with 1 minute accuracy. Case material: Polyamide
Connect Ambit3 peak to your smartphone for syncing your activities, customizing on the go and seeing calls and notifications on the watch
Add Photos in movement and create a SUUNTO Movie with the highlights of your adventure to share with your friends
Complete with a heart rate monitor, this sleek-looking watch has numerous features that you'll love, making it easier to monitor and keep on top of your fitness goals. You also get weather and altitude information as well as the ability to sync all of your activities with your smartphone, making it convenient to stay organized so you know what's going on at all times. The case is made out of polyamide and you get one of the longest battery lives of all smartwatches — up to 200 hours at a time.
Positives
Has easy-to-read dial with accurate information on it

Comes with its own heart monitor

Has a built-in barometer, altimeter, and compass

Can be hooked up to a smartphone to sync your activities
Negatives
There are some complaints about it being difficult to set up and use

It is a little pricey 
Regardless of its pros and cons, this watch has a 4.4-star rating on sites such as Amazon, with 84% of users giving it either 4 or 5 stars. Since it's made by Garmin, you know it's high in quality, and it isn't just the high-tech features that will please you. It is also the fact that it works great and looks great!
Magellan Switch Crossover GPS Watch
This GPS watch has features such as a 1.26-inch screen, a total of nine activity profiles that allow you to customize it to your favorite sport, and a water resistance of up to 164 feet (50 meters). The watch has a modern design that is certain to catch people's attention, and you can perform numerous functions that include recording your time, distance, elevation, calories, speed/pace, and so much more. It also offers wireless sensor compatibility and has a sleek black design. In other words, this is one watch that both looks great and works great!
Positives
Is very reasonably priced at just under $56

Monitors heart rate, distance run, and many other stats

Has large 1.26-inch display screen

Is water-resistant up to 164 feet
Negatives
Some complaints about inaccurate GPS

Some claims that their workouts wouldn't upload
This watch does have a rating of almost 4 stars (out of 5) on sites such as Amazon and others, so it is a very reliable watch with some great features. It allows you to check pace, mileage, and time in real time, but what it does best is provide you with the tools that you need to manage and accomplish your fitness goals.
Garmin Forerunner 245 GPS Running Kayaking Hiking Smartwatch
Sale
Garmin 010-02120-20 Forerunner 245 Music, GPS Running Smartwatch with Music and Advanced Dynamics, Black
GPS running smartwatch with music advanced training features, Lens Material:Corning Gorilla Glass 3, Bezel Material: fiber-reinforced polymer, Strap material:silicone
Battery life: up to 7 days in smartwatch mode and 6 hours in GPS mode with music
Evaluates your current training status to indicate if you're undertraining or overdoing it; Offers additional performance monitoring features
Get free adaptive training plans from Garmin coach, or create your own custom workouts on our Garmin connect online fitness community
Provides advanced running dynamics, including ground contact time balance, stride length, vertical ratio and more (When used with Running Dynamics Pod or HRM Run or HRM Tri monitors (sold separately))
If you are looking for a watch that is well built and loaded with features that makes it match and exceed the demands and standard of watches for kayaking, the Garmin Forerunner 245 is sure a perfect fit. The watch comes in different styles and colors for you to have the chance to choose the one that suits you.
Although, you are never going to see anywhere that this watch is designed only for kayaking. It is designed as a versatile watch that can be used for many sports activities. The watch boasts of features that help you evaluate your training to know if you are progressing or not.
The watch can be connected to your phone. It helps to send your time location to emergency contacts with the assistance of the safety and tracking incident detector. The battery life of the watch can last up to 7 days when in smartwatch mode and up to 6 hours in GPS mode.
You can have unlimited fun when kayaking with the watch as you can easily play music from your watch. One of the interesting facts of the watch is that it has is resistant to water and can be used for all water sports which makes it ideal for kayaking.
The screen of the watch is clear and very easy for you to see the time and other things. The comfy hand strap makes it convenient for anyone to wear and use for a longer period. It has a buckle that makes you easily get a snug fit when you wrap the watch on your wrist.
Positives
Strong and rugged design
Training benefit
Long battery life
Resistant to water
Ideal for all water sport
Negatives
Screen hard to see in sunny condition
Garmin Fenix 5 Sapphire
Garmin Fenix 5 Sapphire - Black with Black Band
Premium multi sport GPS watch with elevate wrist heart rate technology; Physical size : 47 x 47 x 15.5 millimeter
Fit for adventure with rugged design that features stainless steel bezel, buttons and rear case , features Sunrise or sunset times, GPS time sync
Put key stats at your fingertips with the performance widget that shows the effects and progress of your workouts. Battery life smartwatch mode upto 2 weeks; GPS/HR mode upto 24 hours. UltraTrac mode...
Connected features include smart notifications, automatic uploads to Garmin connect online fitness community and personalization through free watch faces and apps from our connect IQ store
Outdoor sensors, including GPS and Glonass satellite reception and 3 axis compass with gyroscope and barometric altimeter
The Garmin Fenix 5 Sapphire is a stylish watch that comes with all you ever need from a smartwatch. It has a crystal clear screen where you get to see the time clearly without any reason or need to guess. It is an analog watch that is very easy to understand for anyone.
It is regarded as a premium multi-sport watch because of the amazing features such as the wrist heart rate technology which helps you to monitor and track your heart rate during any workout. It is perfect for all kinds of adventure as it is built with strong and rugged materials.
The design is topnotch with stainless steel bezel, buttons, and rear case. One of the reasons you should consider it for kayaking is because it is lightweight and comfy on the hand. the battery life of the watch is inspiring as it lasts up to 2 weeks in smartwatch mode and 24 hours for GPS/HR mode.
The watch can only withstand splashes of water and should never be immersed in water. Also, for outdoor use, the watch comes with outdoor sensors which include GPS and GLONASS satellite reception and 3 axis compasses with barometric altimeter and gyroscope.
Positives
Perfect for outdoor use
Lightweight and comfy
Durable and rugged
Long-lasting battery
Negatives
It has no significant setback
Fitbit Ionic Watch
No products found.
The first glance at the watch is enough to win your heart. It comes very stylish and appealing to anyone that loves watches. Every watch enthusiast in need of a quality watch will look no further with this watch. It is a universal watch that can be used anywhere for anything.
It is well built to be rugged and powerful to handle pressure and rigor from any sports activity. It is a digital display watch and the view on the screen is very clear for you to see things the way they were.
The watch comes with a comfy band strap that is attached to a clasp buckle for it to give a snug fit whenever you wear the watch. Apart from telling you the time, the watch also has features that tell you some other things about yourself such as your heart rate, steps, and distance covered.
It offers users the platform to personalize their workout, monitor their progress and guides them to meets up with their goal. It has the capacity to store up 300 songs and you can listen via your Bluetooth enhanced headphones.
It has long battery life. Also, it can be used for swimming because of its resistant to water which makes it perfect for kayaking too. The watch is comfortable to wear all day and night.
Positives
Track pace, distance and heart rate
Durable and rugged
Long battery life span
Built for adventure
Negatives
Not ideal for long water immersion
Polar M430 GPS Running Watch
POLAR M430 GPS Running Watch, Black (90066335),Medium/Large
Optical heart rate monitor - continuous, accurate heart rate without a chest strap via a 6 LED optical sensor
Integrated GPS - running watch tracks speed, distance, pace and routes. Display resolution: 128 x 128
24/7 activity tracking - Track your daily activity, including steps, calories and sleep with the guidance to help you reach your activity goal
Vibration alerts - be alerted with vibrating notifications of incoming calls, messages or during training and periods of inactivity
Rechargeable Battery - three different GPS watch recording options to choose from allow for 8 hours to nearly 30 hours of training time. Rechargeable 240 mAh lithium polymer battery.Combining a...
Every athlete who does not have the Polar M430 GPS Running Watch in his or her collection is missing out. Whichever fitness activity you ever want to get involved with, you need a quality fitness tracker watch to help you monitor your progress and some other things that go on with you.
The Polar M430 GPS Running Watch is perfectly designed for you. The watch will be a perfect gift to anyone that loves to get involved in any sports activity. It can be used anywhere and anytime. It is built with top quality materials to makes rugged and durable.
As rugged, it is, it stays lightweight and easy for anyone to wear around for a longer period. The watch can be used for any sports activity. It is indeed built to serve those who love adventure and need a watch that is strong.
The design of the watch is dynamic as it integrates GPS which you can use to trace your track, it helps to track speed, distance covered, pace and routes. Tracking your daily activity, numbers of calories loss, monitoring your sleep can be well handled by the watch.
Positives
Monitor your sleep, calorie, step, pace and heart rate
Good for daily sport activity
Resistant to water
Lightweight and portable
Comfy and convenient to wear
Durable and rugged design
Negatives
It has no significant setback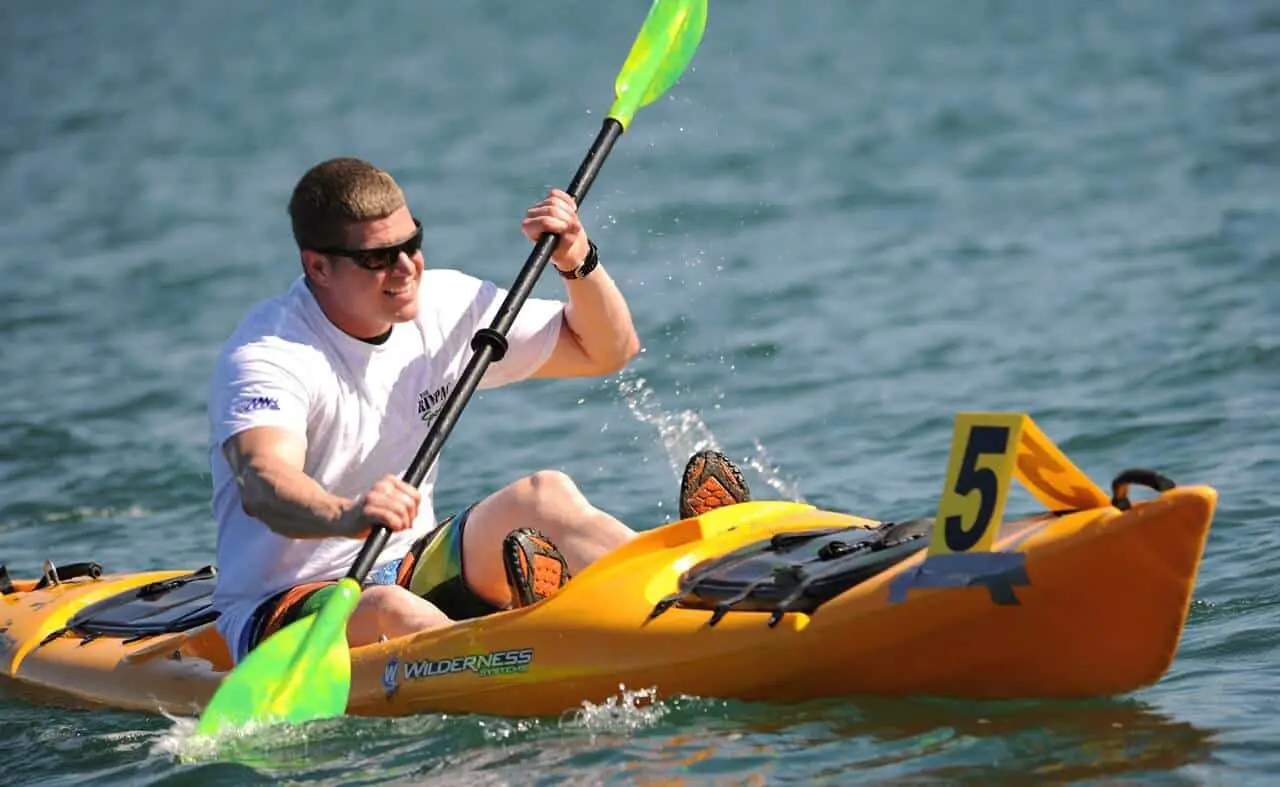 Important things to consider when buying wristwatches for kayaking
There are many things that you ought to consider as factors that will help you make the right decision with the watch you need for your sporting activities.
Waterproof
One of the important factors you should never overlook is resistant to water. Kayaking involves you moving on the water and during movement, you can't avoid splashes of water on your body due to the fact you have to paddle the kayak with your hands.
Therefore, if you are getting involved in kayaking, you should consider getting yourself a watch that is resistant to water. A water-resistant watch is the best for kayaking sport and that should never be compromised.
Durability
Another factor that you need to consider is the durability of the watch you want to get. You need to be sure it can withstand the rigor and pressure from the nature of the sport. There will be times that you might hit the paddle on your watch and only a durable watch can handle such an impact.
Portability and convenience
Also, an important factor you should consider is the portability of the watch. You do not need a watch that will add weight to you while you try to paddle the kayak. It is important that you get a portable and lightweight watch that is convenient for you to wear.
Design
Lastly, you need to consider the design of the watch you want for yourself. Look into the colour, the features, the display of the watch, the battery life span and many more. It is important that you choose the design that you will always fall in love with.
Frequently asked questions
Should I use standard watches for kayaking?
Some do not see anything wrong in using their watch for kayaking and neither do i. The main point is that one needs to ensure the watch has the features it takes to withstand splashes or immersion in water in cases whereby you fall off into the water.
How far can watches designed for kayaking withstand immersion?
The best way for you to know the distance it will take for you to immerse your watch in water is given by manufacturers. You should check that which was given by them as instruction and follow strictly.
Are waterproof watches the best for kayaking?
The best watch you are allowed to use for kayaking is the waterproof watch. It is designed with all it takes to withstand water splashes and all.
Conclusion
The post on the best watch for kayaking is aimed at those who love to get involved in kayaking and in need of a quality watch. We have done several reviews and research and we are able to come up with the lists of the best that you should consider in the market. We also share with you guideline on how you can choose the right watch that suit your style and budget in the market. We do hope you find your choice from the lists above.
Last update on 2023-09-17 / Affiliate links / Images from Amazon Product Advertising API