"This site contains affiliate links to products. We may receive a commission for purchases made through these links."
There's something about wearing a nice watch that impresses people, makes you feel fresh and upscale. You can't really explain what it is exactly that makes it so appealing, but there's definitely something about it. So what if you could get a top-of-the-line watch for a low, affordable price? That's an offer you can't possibly refuse, right? 
Well, the Orient brand of watch is perfect for giving you that sharp Rolex-like look for a much lower price point. This article is going to compare two of the options under the Orient brand, Ray and the Mako. While the two might seem very similar at a first glance, there are some key cosmetic differences that set them apart. Let's get started, shall we? 
Let's Look At The Specs
As previously mentioned, the two watches are pretty similar in terms of technical aspects. The two feature the same Orient Cal. F6922 Automatic movement pattern, 41 mm diameter, 13 mm thickness, mineral crystal dial window and stainless steel wrist straps. Both are also waterproof, list both the day and the date on the watch face and only have a 2 mm difference between the 22 mm strap thickness for the Ray and the 20 mm strap on the Mako.
As you can tell, the two watches share a lot of similarities even down to the millimetre. The biggest differences come into play with physical and display options between the two models.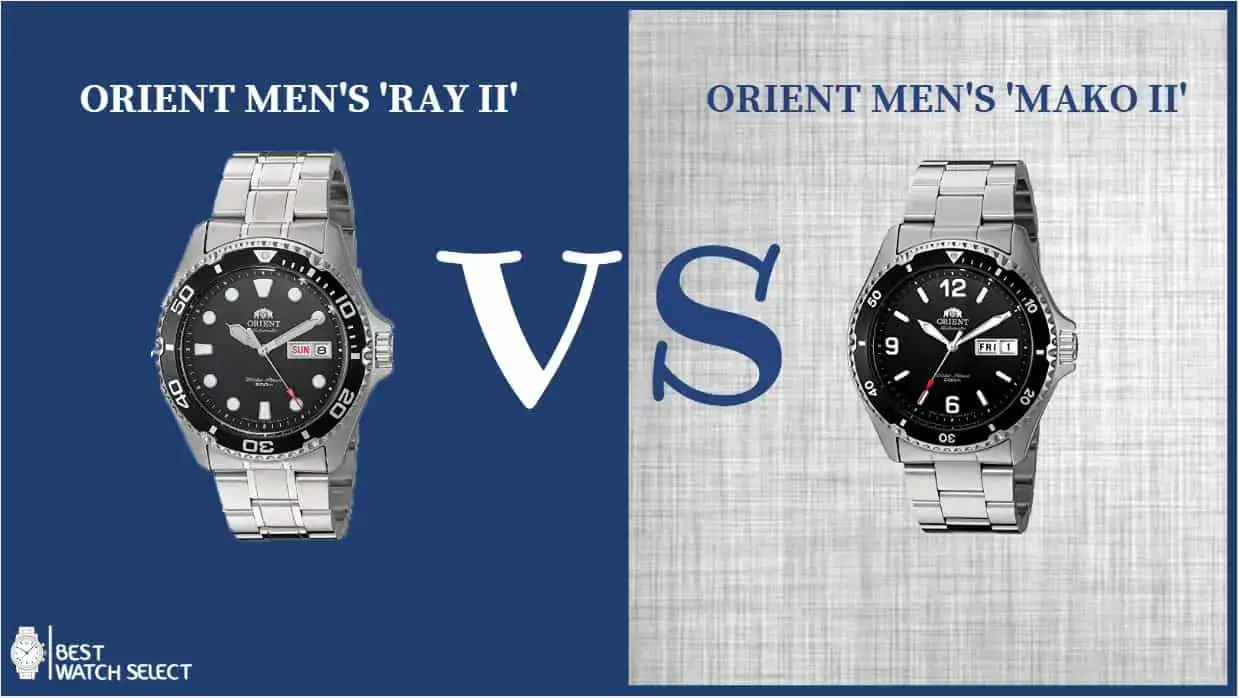 Things To Consider When Buying A New Watch
When it comes to watches, there are some big factors you'll need to consider before you purchase a new watch. Here are some of the main issues you should look into before you make that decision:
Customer Service
When you're making a commitment to something you'll wear as often and display as proudly as a watch, you'll want to make sure you have a good relationship with the companies customer service departments. Whether you need to get the watch repaired, the wrist strap replaced or resized or a just an upgrade, you'll have to go through customer service to get it. 
If you're constantly playing phone tag with your watches customer service company or not able to actually talk to a human, that's a major let down in terms of customer service professionals. 
History of the Company 
Some watch companies have a long, storied history of making high-quality, top-notch products. Others are newer on the scene and looking to break into a super competitive space. Both of those factors have a major impact on the price of the piece you're looking to buy. It makes a huge difference when it comes to the price and quality of your watch. 
Sometimes, you can find newer companies that make similar style watches for way less than you'd pay at some of the big-name, prestige companies. Knowing the history of what company you're buying from could make a big difference with your wallet. 3
Orient Men's Japanese Automatic / Hand-Winding Stainless Steel 200 Meter Diving Watch Model: FAA02004B9
MPORTED MEN'S WATCH: This classic mens wrist watch was beautifully crafted and produced in Japan by utilizing the latest Japanese street fashion for the world to consume. Perfect for any occasion,...
PREMIUM MATERIALS: Our stainless steel watch features a steel bracelet band, mineral crystal and a bezel function of 120-clicks, for improved precision!
AUTOMATIC MOVEMENT: No batteries or winding required with the Japanese-Automatic Movement technology.
WATER RESISTANT 200M: Made to withstand sweat, water splashes and rain! Suitable waterproof watch for professional marine activity and serious surface water sports, but not diving.
FEATURES: 41mm Case Diameter. Shows date display on face.
The Differences Between The Two
Some of the key differences between the two come in the aesthetics, particularly on the watch's face. Let's break down some of the key features and differences between these two watches. 
Face Markers
While the Ray has circular markers intermixed with larger, more tapered markers at the 6, 9 and 12 o'clock spots. Along with the visible minute ticks on the exterior lum of the watch, this is a great option if you need to know what time anything is at a glance. 
The Mako, on the other hand, has a bit of a more fancy and stylized design with numbers instead of shapes or symbols at the 6, 9 and 12 o'clock time slots. The Mako's hour markers around the watch face are also thinner when compared with the Ray.
Bezel
While the bezels on both of these watches look mostly similar on the surface, you'll notice some minor differences on closer examination. The first of those big differences are the larger markings and numbers for the Ray. Another is the thicker, flatter edged triangle shape at 60 minutes. Both watches also have individual minute markers for up to ten minutes, along with ribbing on the outside edges of the watch.
The Bands
Aside from the previously mentioned 2 mm difference in band sizes, there are some other differences between the two model's watch bands as well. 
The Ray, for example, has a simpler, more classic look with its 3-piece stainless steel band. The watchband has a bevelled line on each side with a slightly different finish on the metal. These simple aesthetic things give Ray a more classic, simplistic look. 
The Mako, on the other hand, sports a similar steel band but a whole different finish. The Mako's design seems so much more significant and modern. The band styles on watches can be so important and influential to the overall look and feel for a watch, so making sure you have the right one is essential. 
Orient Men's FAA02001B9 Mako II Analog Automatic Hand-Winding Silver Watch
Mineral Crystal.Power Reserve:Approximately 40 hours.
120-Click Unidirectional Bezel
Case Diameter: 41mm.Power Reserve:Approximately 40 hours.
Movement:Orient Cal.F6922 Automatic, Hand-winding, Hacking Movement
Water Resistant 200m (660ft): in General, Suitable for Professional Marine Activity and Serious Surface Water Sports, but not Diving
The Day and Date 
A minor entry on this list but one that could make a difference for people is the color the date and day displays on the face of each watch. While the two are almost completely the same in this regard, Ray displays the day in the red. 
Hands
Those who have sharp eyes for detail are likely to notice some of these two watches key features, like the watch's hands. The Ray has a much thicker, fuller design with a big and tapered hour hand along with a thicker, less tapered minute hand. 
The Mako has a much thinner look overall with the hands, giving a sleeker, more streamlined look. Both watch faces, being diving watches, are designed to glow a luminescent green in the dark. 
Features The Two Watches Share
While the two watches do have some key features that separate them from one another, these two models are much more similar than they are different. Let's break down some features both of these watches share. 
Water Resistant Up To 200 Meters 
Being dive watches specifically made for underwater use, these shouldn't come as too much of a surprise. You won't have to guess while you're 30 meters underwater if your watch is going to hold up or not. Either the Ray or Mako models will both hold up with no trouble at all. 
Paired with the brand new and improved uni-directional bezel compared to the previous model's 60 click bezel, these watches are perfect for any underwater adventures you have planned. 
The F6922 Movement Type
Orient as a company isn't commonly known for how often they alter and change what works about their watches. So when they do make some big changes, they're definitely worth noticing and taking note of. 
Both the Ray and Mako models have their brand in, in-house designed Orient Cal.F6922 technology in them, designed with movement in mind. The big change is that, as opposed to the last Ray and Mako models, this new version has both manual winding and hacking functionality. For those not super familiar with watches, those are big-time changes. 
Manual winding allows you to keep your watch going and on time, even if you're not wearing it for a bit. Automatic watches tend to need you to keep on moving to stay powered up and can only hold a charge for about two days. 
The hacking features let you stop the ticking of the second hand to make sure the time stays correct instead of being forced to wait until the power runs out. 
Styles and Colors
Both watch models come in a wide range of styles and colors to choose from, adding even more individuality and customization potential to your new watch. Let's break down the color and style options for each model. 
The Ray
The Ray gives you several different color options to choose from. The main two options are the black and blue watch faces on the stainless steel banded models, but the Ray Raven has a striking and unique all-black metal look. It's in sharp contrast to the other bright, shining silver entries on this list. If you're looking for a unique looking option, that's Ray Raven might be the way to go. 
The Mako
While the Mako and the Ray are two very similar watch models, there are some key stylist differences that could make a difference to consumers. The Mako gives you four distinctly different face and bezel combos, some of my favourites being the white and blue-faced options. 
The Mako also offers a striking Pepsi style blue and red watch face, most similar to the Seiko SKX009. There are no rubber strap options offered for the Mako models. 
What is Orient Watch's story? 
Orient Watches has been at it since 1950, creating unique, high-quality timepieces that anyone can wear and enjoy. Even today, Orient Watches has a fervent commitment to improvement, looking to deliver unparalleled mechanical movement and to redefine fresh new styles with Japanese street fashion in mind. 
Orient firmly believes that form without function in a watch is useless. They know that the heart is meaningless without the soul and that every watch is more than just the sum of its individual parts. Every time you put on your Orient Watch, the company takes pride in your wearing a piece of Japan in all of its ancient, peaceful glory. The companies commitment to tradition and value make them second to none among top watchmakers. 
What if I Need Spare Parts for My Watch?
Orient sells a select number of specialized parts, including leather straps, bracelets, end links, and spring bars. Any part you might need, Orient is sure to have an option for you.  All you need to do is submit a request through the 'contact us' tab on their website, check on the availability of that particular part and see their pricing. 
If you watch ever needs service, all you need to do is provide the details of what your watch needs under the 'service and return request' tab on their web page. 
How long before I receive an Orient Watch I Ordered?
If your part is in stock and ready to go to a warehouse in the United States, it will be shipped to you in about 48 hours after receiving your payment. If for some reason that piece of that watch isn't in stock, it could take anywhere between four to six weeks for that part to arrive stateside and get to you. 
Related Post:
Last update on 2023-05-22 / Affiliate links / Images from Amazon Product Advertising API