"This site contains affiliate links to products. We may receive a commission for purchases made through these links."
Generally, most people who are just about to get into the world of watches, as they step into a store to get one, the first brand that a lot of people try out is the Citizen. Citizen has been one of the top watches making brand since time immemorial, with their skills in crafting watches is one of the best you can find, no wonder they have been on the top for so long. Let's check the ultimate guide on Citizen BJ8050-08e review.
The citizen was founded in the year 1930, in Tokyo, Japan. It was a collaboration of both Japanese and Swiss investors that took over the Shokosha Watch Research Institute that was founded in 1918.
Ultimate guide on Citizen BJ8050-80e review
The BJ 8050-08e is one very awesome model made by a citizen. The Citizen EcoZilla BJ8050-08e is actually a diver's watch as it has been designed to be able to resist water as far down as 300m, which is about 990 feet beneath the water.
Apart from this, the Citizen EcoZilla BJ8050-08e comes with a whole lot of other functionality that makes this watch not only unique but also a watch that would serve you, and you would get the best from the money you paid to purchase this brand.
Moreover, this watch is not all that expensive when you check out the functionality of the watch. I am going to actually give you more information about the features of this awesome watch in a bit,
But before then you need to know that this humongous watch from the Japanese maker is not only rugged but of high quality that would ensure it serves you for a longer time than u expected. So buckle up as we take a trip through the Citizen EcoZilla BJ8050-08e watch in particular and what makes this watch exceptional.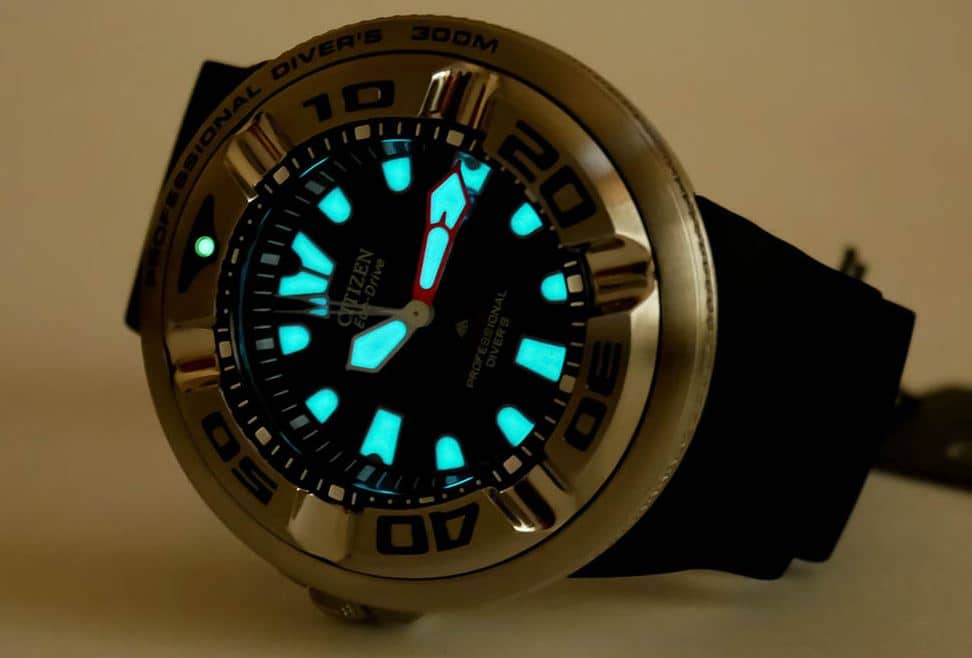 Citizen EcoZilla BJ8050-08e Review
Citizen BJ8050-08e Overview
The Citizen EcoZilla BJ8050-08e has a solid black dial design and strap which does not only makes this watch awesome, but also a perfect accessory for scuba diving. A reputable expert in scuba diving who dares to undertake the journey underwater to explore,
Would totally find this watch as a best friend and totally handy because of the functionality and dependability of the watch undersea territories, as it is resistant to watch for up to about 300m with is about 990 feet when you convert it.
Apart from the fact that the Citizen EcoZilla BJ8050-08e can be used underwater, it can also be used in land, with its awesome presentation and looks, as it also has a very perfect fit with sportswear. They are also extremely rugged, and cool looking at the same time.
I would personally recommend this watch to like anyone I know, but the only thing about this watch is that they do now have that official look, but whatever apart from the office and other official gatherings, we can cruise around with this watch and look the part.
Moreover, Citizen is not only known as a brand that produces a very good quality wristwatch, but it is also a name of a brand that defines a man's sophistication and luxurious appeal. With their long history of producing wristwatches, they have actually been in the world of producing wristwatches for about 89 years.
Also, the Citizen EcoZilla BJ8050-08e has a standout look on our dressing, as it has a mark it places on the wearer that makes them distinct, and not only with the EcoZilla BJ8050-08e but also in their other innovative wristwatches with a whole lot of more functionality, such as the dive watches. From this standing point, we can say that Citizen has offered one of the most prized dive watches, and that is the EcoZilla BJ8050-08e.
Key Features
Analog dial type

Stainless Steel Casing

Mineral crystal face to shield the watch from cracks and scratches

Luminescence on hand and markers

Date and time display

Silicone strap band material

Buckle clasp
Things We Liked
Cool looks and extremely rugged

Water resistant of up to 300m or 990 feet

Protected casing and dial

Top notch materials

Bright and long-lasting lume

Do not need frequent battery change. Changes are in approximately 1-2years
Things We Didn't Like
The thick casing of about 19mm while regular watches are 11 – 12mm

A little bit heavy of about 14.08 ounce

Large size, and are not designed for people with smaller wrist

Not suitable for formal occasions
Recommended Read: Seiko Flightmaster SNA411 – The Ultimate Guide
Who is this BJ8050-08e for?
The big question of who is this watch for? Is a question that has to be asked for any product that is built? But basically, this product can be used by serious divers, as they should really consider using this watch as it boasts a 300m water-resistant and a screwed-down crown. Apart from its water-resistant feature, that big bulky case would surely give the watch some kind of protection against any drop or impact while diving.
Even though you are not divers, and you do not swim, this watch can still be for you as it really looks great on casual wears, so you can totally use them for any casual outing. Also, anyone who loves a visually attractive and unique watch on his wrist can definitely still go for the Citizen EcoZilla BJ8050-08e. Because of the huge size and weight, this watch gives the wrist a presence.
Key Features/Benefits
Casing Size
The case of the Citizen EcoZilla BJ8050-08e has a huge 48mm diameter, and when compared to other wristwatches, it reveals that the EcoZilla is bigger.  A most normal classic dress watch is usually about 38mm in diameter which is less by 10mm when compared with the EcoZilla.
With this size of the EcoZilla BJ8050-08e, Citizen actually pushed it beyond the boundary of how huge a watch can be and not just the diameter, but also the thickness is about 18mm which is also astounding.
The EcoZilla BJ8050-08e from Citizen is a monstrous watch that has a very nice heavyweight to it. While also the Stainless Steel casing also makes it look more rugged and a watch that is intended for actual diving. Also,
This little beast can actually get down to as low as 300m beneath the water and still be working perfectly fine; this is because of the well-compacted casing of the watch as it can actually resist water, which means you can actually dive with this watch.
Many times when you get to the store you would find a lot of watches that have the divers look, but cannot be really used for diving. So basically, the EcoZilla BJ8050-08e is actually watch meant for people who love having a big manly looking watch that is if you have the wrist for it, and bear in mind that it would actually feel heavy.
Recommended Read: Invicta 8926 Review – Men's Pro Diver Collection
Case design
Because of the size of the EcoZilla BJ8050-08e, Citizen decided to use a lug-less case design which makes the watch totally circular in shape. If not, the watch would have been very big and only people with very big wrist would have been able to rock this wristwatch. A bit thanks to Citizen for this lug-less design.
Sad to say but this special lug-less design actually means that the polyurethane watch strap is specially built for the watch with separate metal coupling to the case. And this means that the watch strap cannot be changed without purchasing a separate adapter to connect it to the back case.
Bezel
The EcoZilla BJ8050-08e bezel is raised pronouncedly to give the mineral crystal on top of the watch good protection. This is quite important because mineral crystals do not really look all that nice after it has been scratched.
How to rotate the bezel is a design I do not really like about the watch, as you would need to grab ghetto bezel from the top because the side of the bezel is a protective ring which is not connected to it.
This design actually makes the bezel not so natural and a bit difficult to rotate. It is actually really different from the normal divers watch that bezel that can be easily rotated by grabbing the sides of the bezel.
Crown
The crown of the EcoZilla BJ8050-08e is screwed down at the right-hand side of the watch that is at 9 o'clock which is quite different from the normal wristwatches which are usually located at 3 o'clock. A lot of people do not like this as it can be a bit of a challenge to use it especially if you are wearing the watch on your left hand.
But to me, I do not have an issue with this because normally we are not meant to change the time on the watch while wearing it, because this is the weakest point for the watch. Any slight bad push can actually snap the crown steam which connects the crown to the inside movement. So it is only advisable that you take off your wristwatch before setting the time
Dial
Also, the dial of the EcoZilla BJ8050-08e is black, and in my opinion is a bit too small for its larger case. If you take a close look at the watch, it does not have a good proportion of the case diameter to the dial diameter. To me it is a flaw in the making of this watch; it just looks like a big man with a small head. I'd only advise that Citizen makes the dial a bit bigger in case of any future update.
Also, just like the divers watch you can find everywhere these days, the hand and the marker features a lume. Actually, the hands and the markers are quite bigger than the hands and markers of most divers watch, and the markers are uniquely shaped, as they are neither rectangular nor circular, but are kind of like an elongated half circle.
Also, at the right of the dial, features a date display window, but they are a bit too small and I am sure a lot of people would have a bit of an issue seeing it. Apart from the luxurious use of the lume on the hands and the markers, the lume will surely give a long and satisfying glow in the dark effect.
Solar-powered
The EcoZilla BJ8050-08e is also powered by the Eco-drive technology, which is citizen most famous reliable Solar powered movements. And we cannot deny the benefits of the solar-powered movement, as it makes any wristwatch free from the dreading dead battery.
All you need do is just to expose the watch to enough light, and as we already know, the brighter the light the more it recharges itself. And it also has a good 180 days lifespan reserve after a proper charge and I am quite sure that before the end of this period, you would be able to a few good hours of sunlight on it.
Recommended Read: Seiko SARB033 Review -The Ultimate Guide
FAQ and Tips For Citizen Eco Zilla Titanium
Does this watch require a battery?
Actually, there is no need for a batter as this watch is powered with a solar system. And the best part is that the solar system can actually create a power reserve of up to 180 days,  that is a whopping 6 months with no maintenance what so every needed.
What is the watch strap size?
The size of the EcoZilla BJ8050-08e strap is about 22mm with a clasp buckle. Basically, they are meant for people with a bigger wrist.
How water-resistant is this watch?
The EcoZilla BJ8050-08e from Citizen is quite a watch that can stay underwater without any effect that is why this watch is called a divers watch. They can go as deep as 300m beneath the water and still function as though they are not underwater, because of how tightly the casing of this watch has been fitted together.
Conclusion
Now that we have reviewed this product, what is next? I would suggest that you get to the store closest to you and grab yours now because the Citizen BJ8050-08e Review is actually very unique wristwatch with an extreme style.
It is also quite big, very thick and looks very aggressive look. And to top it all, it can also go far deep as 300m beneath water without getting any water into the main watch. So basically you can either love this watch or hate it.
Last update on 2023-11-25 / Affiliate links / Images from Amazon Product Advertising API