"This site contains affiliate links to products. We may receive a commission for purchases made through these links."
Are you in the market for a new watch? If so you should consider an affordable option like the Seiko SNK805 Automatic. The Japanese company was founded more than a century and a quarter ago. It's become one of the world's most famous makers of men's wristwatches.
In this article, we'll be reviewing the Seiko SNK805 Men's Watch. You'll learn the timepiece's features, benefits, and drawbacks. This info can help you figure out if it's the ideal wristwatch for you or someone you know.
The wristwatch market is big business and keeps growing. In fact, it's projected to grow over 1% during the next three years. The good news is you can find a wide variety of Seiko watches with a much lower price tag than the $1,500 Grand Seiko. That includes the Seiko SNK805.  
Seiko SNK805 Automatic Stainless Steel Watch Review
SNK805 Automatic
Seiko is a Japanese company that was founded over 130 years ago in 1881, in the city of Tokyo. The company was incorporated about 100 years ago in 1917. Seiko was originally launched as a watch and jewelry shop and started making clocks beginning in 1892. [source]
The name Seiko means "exquisite" and success" in Japanese. It released the first-ever quartz watch in 1969 called Astron. Seiko is best known for its wrist-watches today, but it also produces other products including clocks.
What's the product in this seiko snk805 Automatic review all about? It starts with the budget-friendly price range of under-$100 for the military-inspired timepiece.
The SNK805 is eye-catching with this glow-in-the-dark accents, green dial, and day/date display. This watch's aesthetics also features a green nylon strap w/ buckle closure. Key features include stainless steel case, water resistance, and gift box.
Then there's the automatic feature. The SNK805 is powered by the wearer's arm movements instead of a battery. It also has reserve power that's stored during times the watch isn't on your wrist.
Things We Liked
Good eye-catching casual watch

Keeps accurate time based on the price point

Water resistance of 30 meters

Excellent craftsmanship for the price range

Excellent  value due to several features
Things We Didn't Like
Not ultra-durable

Face scratches easily and the strap is cheap

Sometimes watch stops working/loses time
Key Features
Automatic movement w/ analog display

Nylon green strap

Water resistant up to 99 ft. (30 m)

Good value/many features for the price

Military-inspired watch with green dial and day/date display
Who Use The Seiko SNK805
The Seiko SNK805 is an outstanding option if you're looking for a good watch at an affordable price. It's in the under-$100 range so you won't have to worry about spending big bucks for good value and many features. One of the big plusses is there's no battery so you can save money and the Earth's resources. The automatic watch is powered by the wearer's arm movement.
Based on the Seiko watch's price point this unit is loaded with features. The top feature is the aesthetics like glow-in-the-dark accents, green dial, and green nylon strap. You can power the watch with arm movements or the auto watch winder.
This Seiko watch is a good option in terms of durability, accuracy, and aesthetics. The steel case makes the unit more durable vs. cheaper materials. The SNK805 keeps good time. You can wear it 8+ hours/day or manually turn the crown to manually wind up the main spring. The eye-catching design and colors also add value.
This watch is also a good choice if you want to go with an established brand. Seiko has been in business for 135+ years, so it has tons of experience making time-keeping products like watches and clocks. That's a world of difference vs. startup companies or off/generic brands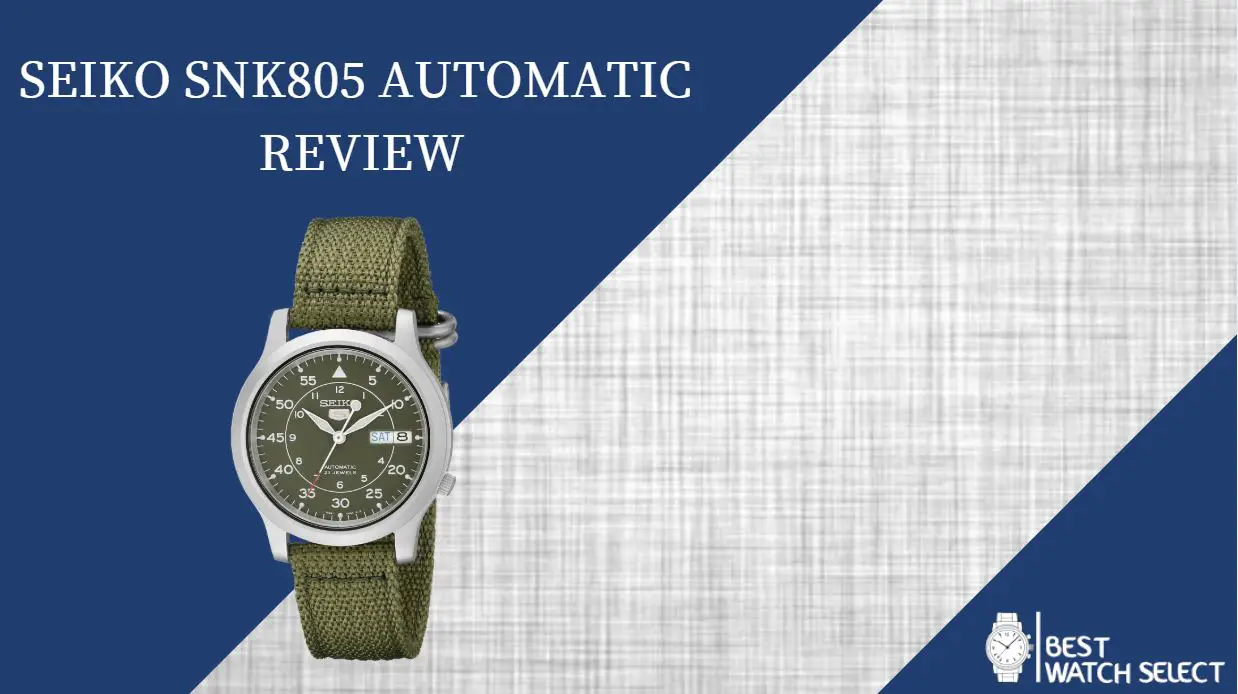 Key Features – Benefits of Seiko SNK805
Automatic Operation
What does this mean? The big plus of automatic watches is you never need to add a battery. That's because these wristwatches get their juice from arm movement. So all you have to do is follow your daily routine 8+ hours/day to keep the watch's glow-in-the-dark hands turning.
Day/Date Display
This Seiko watch includes a display that tells you the current day and date. What's the big deal? We've all lost track of the date and even the day for various reasons.
Couldn't you use your smartphone or tablet to get this info? You could, but it's less convenient than a wristwatch that's always within arm's reach. Just glance down at the SNK805, and you'll know the day of the month and day of the week.
Mineral Crystal Glass
This watch includes a window made of mineral crystal. It's scratch/impact-resistant and is used most off in the watchmaking industry.
Mineral Crystal class provides several features. They include high strength, clarity, and reflection.  It's also more cost-effective than other options, so it helps to reduce the watch's overall costs.
Auto Watch Winder
You have a few options for "charging" this automatic watch. One is to wear it 8+ hours a day, and another is to turn the crown to wind the unit's main spring.
Another option is the automatic watch winder that's sold separately. This is a storage unit that keeps the watch wound up when it's not in use.
For example, let's say you don't need to wear your watch one day for whatever reason. You can keep it wound up by storing it on the auto watch winder. The timepiece can then be used whenever you're ready.
You may like to read this: Seiko SNK809 Review
Analog Display
Fun Fact: Hamilton released the world's first Commercial electronic digital wristwatch 40+ years ago in 1972. Analog displays are old-school, and that's a good thing for many consumers.
Many shoppers for wristwatches are looking for units with the traditional look and feel of analog displays. What's old is new again. Another plus is reading such displays can give your mind some exercise. You tell time instead of the watch telling you the time.
Nylon Strap
The SNK805 features a green nylon strap that includes a buckle closure. It's fair to say this isn't the world's top watch band. That said, nylon provides some benefits like absorbing perspiration better than rubber.
What if you're still not happy with the strap? It could be argued the strap is this Seiko watch's weakest link so if you wanted to swap out the green nylon strap you'd still get a high-value watch for the price point.
Military-Inspired Design
If you want a wristwatch that looks like it's military-issued, then the Seiko SNK805 is a great option. That includes the luminous accents, green dial,  and green strap. It offers a traditional yet classy look that never goes out of style.
Steel Case
This Seiko watch isn't the most durable one, but it's sturdy enough. That's due to factors like the steel case that helps protect the interior components of the watch. This adds value to the SNk805.
Price Range
Do you have $55 million for a watch? If not then you should consider the Seiko SNK805. This wristwatch is in the under-$100 price range so a good option if you're on a shoestring budget.
While this watch offers a rock-bottom price, it includes high-value in terms of aesthetics, functionality, and so on. So in some ways, you get more than you pay for.
Versatile Watch
Another plus of the SNK805 is it offers lots of versatility. You can wear it as a casual watch to work or on the town. It's also a practical option for outdoor use like hiking and camping.
Water Resistance
The SNK805 is water resistant for a maximum 30 meters (99 feet). That doesn't mean you should consider scuba diving with the unit.
How water resistant is the watch? The unit can basically withstand some splashes or being immersed briefly in H2O. That said, you should consider not swimming or showering while wearing the SNK805.
Once again, this model offers tons of value/features for the price. If you want a basic everyday watch that will still work in light rain or splashes from sinks or sprinklers, then the SNK805 is a wise choice.
FAQs & Tips  For Seiko SNK805
What are the dimensions of the Seiko SNK805?
It has a case thickness of 11 millimeters and case diameter of 35 mm. It also weighs 2.08 ounces.
Why doesn't the watch need batteries?
This automatic watch gets is power from your arm movements rather than batteries. All you have to do to keep the watch running is to wear it 8+ hours/day. This can save you a ton of money you'd normally spend on watch batteries, which usually end up in landfills.
What is the water-resistant depth?
It's technically 99 feet. However, it's not recommended that you swim (let alone dive) with the SNK805.
What is the watch winder?
The automatic watch winder is a "charging station" of sorts. In between times, you wear the watch you can store the timepiece in the storage unit. This keeps the watch ready to wear since it stays fully wound.
It's an alternative to manually winding the watch. Which option is better? If you wear the watch regularly then winding is practical.
However, when you won't be wearing the watch for 1-2 days, for example, the auto watch winder is a plus. It prevents the rigmarole of winding up the watch constantly.
How precise is this watch?
The SNK805 is a mechanical watch that generally keeps good time. Its precision is based on a wide variety of factors. So if you want pinpoint accuracy, then this isn't a good watch for you.
Even if you wear the watch 8+ hours a day, you should still expect to lose several seconds. This isn't to say you should automatically shop around because of the watch's accuracy. It's simply not built for accuracy to the second.
Conclusion
We've just taken a close look at the product featured in seiko snk805 Automatic reviews. We're ready to share our final verdict. Like other watches on the market, this Seiko watch has its plusses and minuses. The main benefit is the under-$100 price range that offers big vale.
Is SNK805 perfect? It's not, and you should expect it to be for the price point. It doesn't keep perfect time and easily loses about 10 seconds/day when worn for 8+ hours. Another drawback is the non-hacking movement that doesn't let you stop/set the second hand.  The biggest "issue" with this Seiko watch is easily the green nylon band.
All of that said the SNK809 is still an automatic watch worth considering. Besides being an affordable entry-level automatic watch, it has some big plusses. They include the steel case,  water-resistance, and battery-free operation.
The biggest plus of this timepiece is arguably the aesthetics. They include a military-inspired look with green dial, day/date display, and glow-in-the-dark hands.
In fact, online reviews of this watch typically give this watch the highest marks for its appearance.  The SNK805's aesthetics make it look a lot pricier than it actually is, which isn't really a bad thing for a cheap watch.
So what's the bottom line? This Seiko Automatic watch is an outstanding choice for an entry-level unit. It has its downsides including the durability, precision, and most notoriously—that green strap. However, we think it's worth swapping in a new band so you can keep all the watch's perks.
The watch in this Seiko snk805 review also includes some key plusses including automatic functionality, water resistance. The biggest plus is the aesthetics including the army watch-like look,  Arabic markers, and green dial. Your future with this automatic watch can be as bright as the illuminated accents.