"This site contains affiliate links to products. We may receive a commission for purchases made through these links."
Are you in the market for a quality yet affordable men's watch? If so you should consider the Seiko SNK809 Automatic.  The Japanese company headquartered in Tokyo and has almost a century of experience designing/manufacturing watches. It makes a wide range of products including watches and clocks.
We'll be reviewing the Seiko SNK809 Men's Watch. Our review will include the item's features, pros, and cons. This can help to determine whether or not it's the right timepiece for you or someone you know.
The global watch market increased to nearly $9.8 billion last year. While smartwatches have increased in popularity, you might want to sport a traditional timepiece instead. If you're looking for a unit in the under-$100 category, then the Seiko SNK809 might be the best choice for you.
Seiko SNK809 Automatic Review
SNK809 Overview
Sale
Seiko is a Japanese company that was founded in Tokyo, Japan 135+ years ago in 1881. It was incorporated a century ago in 1917. The company was originally a watch/jewelry shop then produced clocks starting in 1892. source:
The company's name Seiko means "success" or "exquisite" in Japanese. In 1969 the company released the world's first quartz watch known as Astron. Today Seiko is best known for its wristwatches.
The Seiko Men's SNK809 is a good option if you're looking for a quality wristwatch. It includes some basic features that provide quality/durability like stainless steel case and canvas bracelet. It also includes a scratch-resistant hardlex crystal.
The watch face includes several noteworthy features. The display shows day/date while the luminescent hands show the time at nighttime. The Seiko SNK809 is also ideal for swimming but not diving.  
The SNK809 also includes automatic movement w/ around 40 hours of reserve power. This helps to provide the current time/day/date whenever you need it.
Things We Liked
Excellent value for the price

Made by established watch company

Good size for average wrist

Look/feel of high-end watch

Good for various activities like walking/swimming
Things We Didn't Like
Low-quality spring bars

Overall quality

Might have some functioning issues
Key Features
Shows day/date

Stainless steel case

Black canvas bracelet

Scratch-resistant

Luminescent hands
Target Customer
If you're looking for an entry-level automatic watch, then the one in this seiko snk809 Automatic review is one of the top options. It starts with the under-$100 price range that won't require you to shell out hundreds or thousands of dollars for your next wristwatch. If you're on a shoestring budget, it's also a wise choice since you can save money on an entry-level model.
The Seiko SNK809 provides many features including its being durable, reliable, and practical. This makes it a practical option if you're looking for your first-ever automatic timepiece. It explains why this model is, in fact, one of the best-selling Seiko watches on the market today.
The watch is also a good option if you're looking for a men's watch with good aesthetics, functionality, and value for an entry-level price point. It's a good choice if you want an automatic timepiece that's loaded with features but won't break the bank.
When picking an entry-level watch, it's best to go with an established brand. This is another reason why the SNk809 is a better option over off/generic brands that are hit or miss—and usually the latter.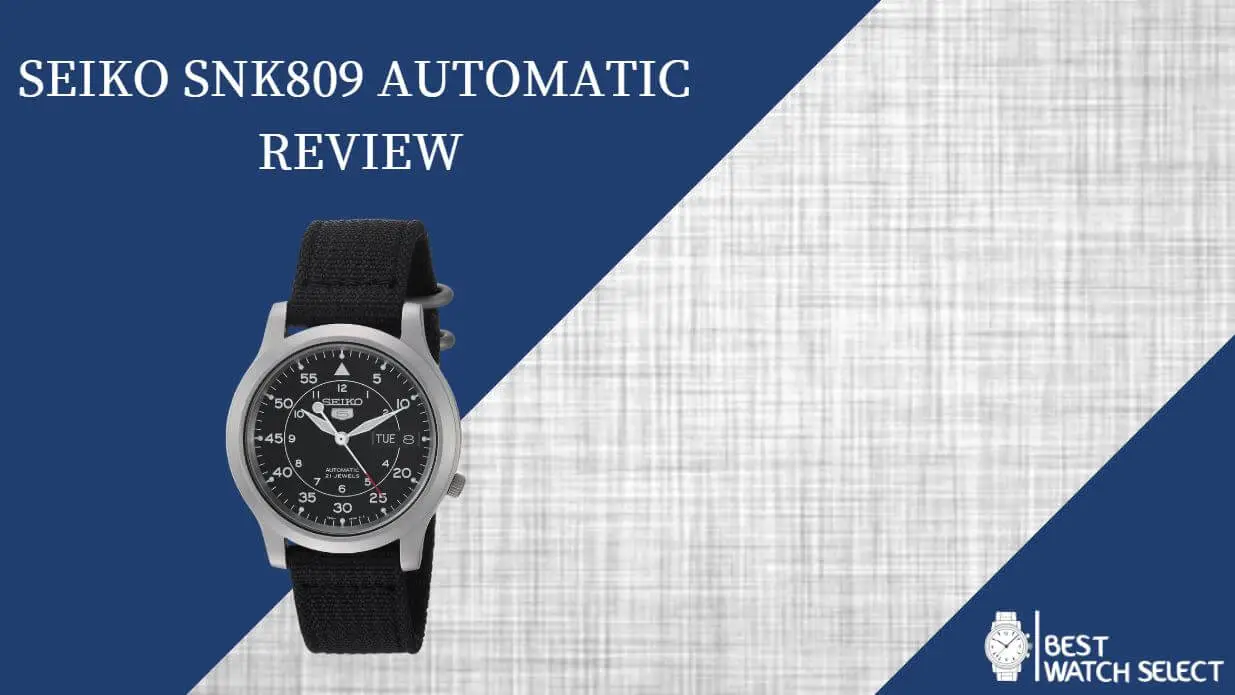 Key Features of Seiko SNK809
Stainless Steel Case
When picking a new watch, the case is easily one of the most critical factors to consider. Stainless steel provides several benefits. It's sturdy, durable, and stain-resistant. It's not as pricey as materials like titanium, but in terms of the overall quality/performance, it's a good option.
Hardlex Crystal
The watch's hardlex crystal includes scratch-resistance that helps extend the watch's lifespan. It's important to note that the scratch-resistance isn't as sturdy as other materials like sapphire glass.
That said, since this is an entry-level automatic watch it's less of an issue. While the SNK809 is loaded with features, you shouldn't expect all of them to be high-end. While the hardlex crystal isn't premium it offers helps protect the watch's mechanisms.
Canvas Strap
This isn't as sturdy or water-proof as other options like stainless steel. However, it's good enough for a basic automatic watch. Textile watch straps it provides a relatively durable strap vs. other textiles. It's also more water-resistant than leather.
That said, the SNK809's trap isn't a forte of the watch. In fact, it's mediocre, and you should arguably consider swapping it out for a better band. On the other hand, if you're OK with a basic watch band, then this canvas one is good enough until you're ready to upgrade to a better watch.
Watch Winder
This unit can be purchased separately and allows you to juice up the timepiece easily. This is certainly an accessory worth considering since it makes charging up your automatic Seiko watch easier.
Price Point
The under-$100 price range isn't surprising for entry-level automatic watches. However, the Seiko SNk809 is loaded with features in terms of form and function. So the price range is reasonable if you factor in the value you're getting for the price like stainless steel case, 40 hrs. of power reserve, and so on.
Water Resistance
Keep in mind this Seiko watch isn't waterproof for diving. However, it's water-resistant enough for swimming. So if you want to keep track of the time when swimming at the pool or beach, then the SNK809 is a practical option.
No Batteries
The main issue with watch batteries is you have to replace them. The costs can add up quickly if you use the watch regularly. So if you want to avoid spending tons of money on batteries then consider the SNK809 over other types of watches.
Another drawback of watch batteries is they're also not the "greenest" option. Such batteries usually end up in landfills. So if you want to pick "green" watches, you should definitely consider an automatic watch like the Seiko SNK809.
5-minute Minute Markers
This allows you to read the time at a quick glance. These markers are quite standard but make it easier to determine quickly whether it's 5, 10, or 55 minutes after the hour. It's a big plus in the hustle and bustle of today's world.
Luminous Hands
As humans, we spend about one-third of our lives asleep. However, it's still important to check the time at nighttime whether it's at dusk or midnight. This feature makes it easier to check your Seiko watch to find out what time it is.
A plus of this feature is you won't have to activate a light each time you want to read your watch at night. That requires more time and effort, which are resources you'll likely want to minimize when checking your timepiece.
40-hr. Power Reserve
This feature provides a power reserve of about 1.6 days, which is more than enough for everyday use.  So the watch can store about two days' worth of juice before you'll need to wind up the watch again. This figure is on the high end since automatic watches tend to have a power reserve up to 48 hours.
Day/Date
These are both displayed at the 3:00 position. Even if you own a watch, it's easy to lose track of the day and time.
The Seiko SNK809 displays that info at a glance so you'll know the exact day of the week and month of the year. As basic as they might seem it can be easy to forget the day and month when you have a hectic schedule.
Sale
FAQs & Tips for Seiko SNK809
What languages are available?
The Seiko SPK809 offers both English and Spanish. So if you're fluent in either one, you can pick that language. It's also a good option if you're learning either English or Spanish. In that case, you can get in some everyday practice learning English or Spanish days or months.
How water-resistant is the watch?
It's more than splash proof as you might read. It's not the most water-proof watch for scuba-diving. So if you're planning to do that activity, you should probably consider a different unit.
However, this watch is a good option if you want to swim while wearing your watch. Just make sure you don't wear it for true scuba-diving since it might get damaged in the process.
What's the watch's strap size?
This Seiko watch requires 18mm straps. In fact, you'll likely want to use a better watch strap with this unit. The canvas strap is a good one, but it's not the best option in terms of durability and water-resistance.
How durable is the Hardlex crystal?
It's not as durable as sapphire crystal. That said, since this is an entry-level watch it probably won't be an issue. After using your first automatic watch, you'll be ready later to upgrade to sapphire crystal.
What is bundled with the watch?
You'll get various ones including the manual and warranty card. Make sure to read the manual carefully so you'll know how to operate the Seiko SNK809 correctly. Even if you've used an automatic watch before each one has its own instructions.
You should also fill out the warranty card immediately. Remember that "stuff" happens in life, so it's a plus when your Seiko watch is covered by the manufacturer's warranty. Make sure to read the terms & conditions, so you'll know what the warranty does and doesn't cover.
How loud is this watch?
It's silent so you won't have to worry about being disturbed by the loud tick-tock of some watches. This might be an issue for some people who are sensitive to continuous sounds like watch/clock ticks.
How long can the watch keep time when not worn?
This is a key issue since it's an automatic watch that's not battery-powered. It has 40 hours of reserve power that keeps the watch ticking when it's not powered by arm-movements. This is a plus when you don't wear the watch for a day or two for whatever reason.
Does this watch require a battery?
This isn't' necessary since the watch is powered by the movement of your arm. You can also separate watch winder. This allows you to charge the watch easily. It's certainly worth considering as a watch accessory.
Conclusion
We've just reviewed the Seiko SNK809. What's the bottom line? Like most watches, it has some drawbacks that are worth noting. That said, just about all timepieces do so it's not a major issue. It starts with the price of the Seiko watch, which ranges from $50 to $100.
What are the main drawbacks? The nylon strap is mid-range and often needs to be replaced. This isn't a major issue since it's quite common to replace the watch band of entry-level units.  Another con is the watch's non-hacking movement. In other words, you can't stop the second hand to tweak the timepiece's precision.
However, based on the price point the SNK809 is a good option based on the various plusses. They include the outstanding price for an entry-level automatic Seiko. It's also loaded with good features like the scratch-resistant hardlex crystal.
However, the SNK809 deliver high-end value for an entry-level automatic watch. You'll get tons of features without paying a sky-high price. Even if you're starting a timepiece collection, the price point makes it worth considering.
You can even find the Seiko watch in a range of colors including blue, green, and beige. This is worth considering since it offers more options and versatility vs. other entry-level watches.  
You may like to read this:
Last update on 2023-11-28 / Affiliate links / Images from Amazon Product Advertising API